Bodylab Active ENERGY® (120 capsules)
Bodylab® Active ENERGY is a new type of dietary supplement containing active proteins from fertilised chicken eggs.
Activated protein is not only a source of protein, but it also performs a number of tasks that have a positive effect on several body functions. At the same time, Bodylab® Active ENERGY contains a range of vitamins and minerals with proven effects on muscles, providing excess energy as well as an excellent immune system.
Snvigorates the immune system

Provides increased energy

Provides increased muscle strength

Documented effect

DabNatural Ingredients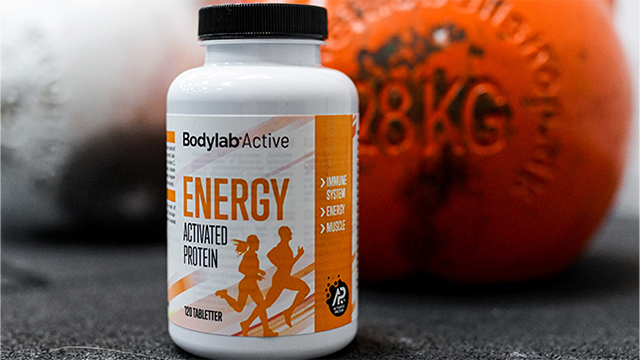 THIS IS AN ACTIVATED PROTEIN
Eggs contain all the ingredients you need to create new life. When the egg is cooked, a process begins in which the egg protein (albumin) is broken down into its individual components (amino acids) and then rebuilt into what are known as activated proteins. Activated protein performs several tasks in the body to build and repair muscles and tissues, produce various hormones and signals that control our cognitive functions.
NEW! ADAPTED TO AN ACTIVE AND SPORTY LIFESTYLE
As we get older, the body produces less of the active substances found in activated proteins and the body's ability to repair itself weakens. Activated protein is a unique and 100% naturally produced raw material. Its daily intake ensures that the body is maintained at a vital level. Active lifestyles and athletes depend on a rapid recovery of physical and mental balance after training or competition, and this is exactly what the active ingredients in activated protein contribute to.
RECOMMENDED BY ATHLETES
Activated protein supplements are used many The following are some of the most outstanding athletes. Bodylab® Active ENERGY helpshelp you cope with the challenges of everyday life, whether youi the ultimate athlete or, like most of us, an "everyday athlete". Bodylab® Active ENERGY promotes better health, faster recovery, gives you extra energy for everyday life and strengthens your immune system to you healthy and as healthy as possible do as much as possible of your workoutduring your workout!
Nutrition
Nutrition

4 capsules (1 serving)

Vitamin A

700 µg

90%

Vitamin D

30 µg

600%

Vitamin E

6 mg

50%

Vitamin C

75 mg

95%

Thiamine

1.1 mg

100%

Riboflavin

1.2 mg

85%

Niacin

14.0 mg

90%

Vitamin B6

1.2 mg

85%

Folic acid

300 µg

65%

Vitamin B12

7.0 µg

280%

Calcium

120 mg

15%

Magnesium

175 mg

45%

Iron

7.5 mg

55%

Zinc

8.0 mg

80%

Copper

400 µg

40%

Selenium

100 µg

180%

Chromium

50 µg

125%
Ingredients
Egg powder, thickeners (cellulose, magnesium salts of fatty acids, beta-cyclodextrin), anti-caking agents (calcium phosphates, silica), vitamins (vitamin C, niacin, vitamin E, riboflavin, vitamin B6, thiamine, vitamin A, folic acid, vitamin D, vitamin B12), minerals (magnesium, calcium, zinc, iron, copper, selenium, chromium).
Use
4 capsules daily.
Delivery method

Country

Cost

Delivery Time

Omniva parcel terminals

Latvia

€2,00

Up to 3 working days

Lithuania

€2,50

Up to 4 working days

Estonia

€2,50

Up to 4 working days

DPD Pickup points

Latvia

€2,50

Up to 3 working days

Lithuania

€2,00

Up to 4 working days

Estonia

€2,50

Up to 4 working days

Venipak Pickup points

Latvia

€2,00

Up to 3 working days

Lithuania

€3,00

Up to 4 working days

Estonia

€3,00

Up to 4 working days

Venipak - contactless courier delivery

Latvia

€2,00

Up to 2 working days

Lithuania

€2,00

Up to 2 working days

Estonia

€2,00

Up to 3 working days

FREQUENTLY ASKED QUESTIONS
How soon will I receive my order?
After receiving your payment, we will send the order on the same or next business day.
Usually delivery with Omniva parcel terminal takes up to 2 working days. Venipak, in turn, delivers orders the next business day after receiving them from our warehouse.
How can I get free shipping?
If the amount of your order is over € 29 (VAT included), we will deliver the order free of charge, regardless of the type of delivery you have chosen.
How can I track my order?
You will receive an order dispatch confirmation e-mail with the order tracking number and a link to view this information.
If you want to follow the shipment, please come to us on the order tracking page and enter the order tracking number you received in the email.
Where can I find a list of current Omniva parcel machines?
Please visit Omniva homepage, where you will be able to find all parcel terminals to which we can deliver orders in Latvia, Lithuania and Estonia.
Will the courier contact me before arrival?
Yes, before the order is delivered, the courier will contact you by the phone number you provided in your profile.
I received damaged / incorrect goods. What should I do in this situation?
In these rare cases, please contact us by email or phone and we will make sure the situation is resolved as soon as possible.
Please also visit Return page for general information.
MakeCommerce - VISA / MasterCard / Maestro, Swedbank, Luminor-Nordea, Citadele (instant processing)
Paysera - Swedbank, SEB, Luminor-Nordea, Citadele (instant processing)
PayPal (instant processing)
Bank Transfer (up to one business day)
If the bank transfer is your chosen method of payment, then you will receive a proforma-invoice immediately after placing the order with the correct amount and VAT, as well as instructions. Don't forget to mention your order order ID - this will make order processing faster.
Company name: SIA PRO
VAT number: LV40203007249
Account number: LV58PARX0020962040003
Bank name: JSC "Citadele banka"
We will place an order as soon as we receive the money in our account, but you can also send us a screenshot or other proof of sending the money to our account. Send it to info@vitamins.lv.
Remember that a bank transfer may take 1-2 business days. As soon as it is confirmed, your order status will change to "paid".
Promo and discount codes do not work with promotional items and items displayed at a reduced price. Gift cards can always be used.